Yeah, I'm getting kind of bored of the whole letter format. So here we go.
I finished the towel for my boy. I pretty much just knitted a 20" x 32" rectangle to get a towel that fits on him the way my towels fit on me. I used garter stitch on all the edges but it still wanted to curl. It has been blocked but I was too lazy to take any more pictures. Sorry.
(He's holding the towel)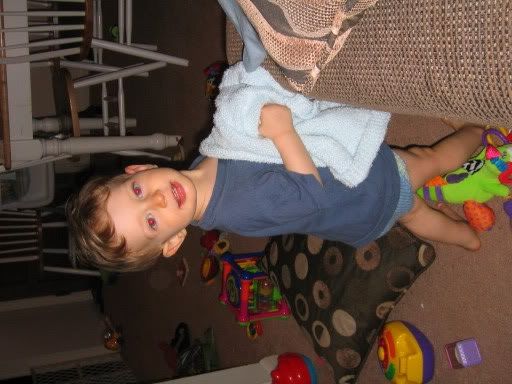 I used a synthetic terry style yarn from red heart called "Baby Teri." I wish I could have found a terry yarn in a natural fiber, but it would probably have cost more than I wanted to spend anyway.
He was excited about the towel. He would frequently pet it while I was knitting it, and he got to help me knit one of the rows. Mwa-ha-ha, I'm already turning him to the dark side!