I made this pair of earrings for a friend's wedding. She had already found the necklace but was having a hard time finding earrings in a coordinating style.
They're actually not put together in the pic - I added a short chain (she insisted on keeping it short) to give them just a little swing. As soon as I get ahold of some of the professional pics from the wedding I'll show off the coordinating garter that I helped her out with too! Plus nicer pics of the earrings, of course.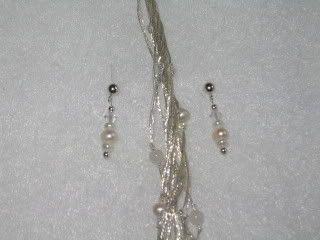 I had some pearls and silver beads in my stash, and she hunted down some pearls and swarovski crystals that matched her necklace. I was so inspired by making the earrings that I started making stitch markers for my knitting group in a similar style. Fancy pants stitch markers actually do give me a little more motivation to get another round done! I'll try to get some more pics taken soon, but my camera is pretty limited on close-up ability.