I've been yucky sick for the last week. Instead of working on the knitting and sewing projects I had already started, I started something new and frivolous! Frivolous, because I don't have a girl and I'm not pregnant. At least as far as I know (strong declarative statements just invite fate to prove you wrong...and make you look stupid at the same time).
I did eventually convince myself to work on the other things I had already started but I still have yet to do any chores this week. Poor, poor husband has been doing the dishes all week.
This is the front: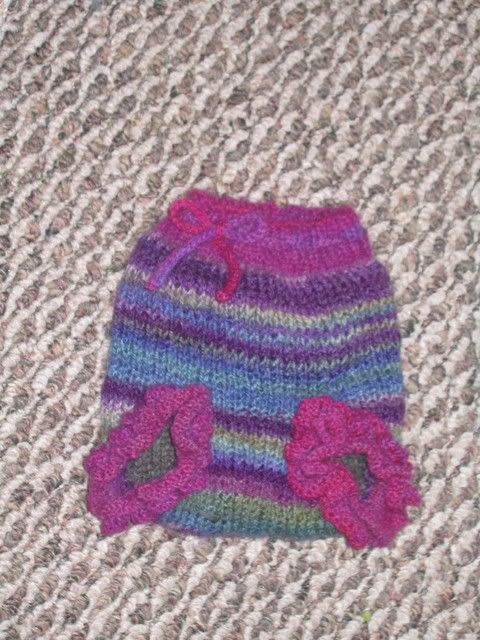 It's lined!
Another view of the lining:
I made the entire thing out of yarn that I spun myself. The waistband and cuffs were spun from roving that I dyed, and the outside was handdyed roving that I received for my sock swap. The lining was some delicious shetland wool/mohair/angora blend roving that I bought from
Avillion Farm
in Apex. Check her site out, she does online orders too.
I wasn't actually planning to line the thing, but it was a bit too airy and I wanted it to be functional too. I do regret adding the frills to the cuffs, but maybe it will look cuter on a baby.
Pattern used was slightly modified from Ms. Crafty Galore's gem, found here on punk knitters:
Punk Knitters Basic Soaker Pattern
.