I have made a wonderful discovery near my house. A thrift store that is frequently less expensive than Goodwill and which almost always has some silk and cashmere sweaters.
When I first discovered this gem I only bought a few sweaters, and my first attempt at recycling was a pink cashmere cardigan. I bungled one of the sleeves a bit and the seams on the front pieces were so worn that it wasn't worth splicing the thread at the end of each row. Even at that I ended up with a ball of laceweight (the original weight) and fingering/dk weight (3-ply).
I have a sketchbook where I try to write down any idea I have for a design. When I get to a point where I have the yarn and inclination to go through with it I'll write down details of sizing and parts of the pattern there too. Once I had this cashmere yarn wound up I was leafing through the book and found where I had sketched out a little baby dress, with ruffly skirt and butterfly sleeves. Perfect!
I didn't really want to design out the body and I got lucky enough to find a baby
singlet pattern
in the right gauge. Thank you, Just Jussi! I left out the ribbing parts and did a picot trim at the neckline and added lace on the sleeves and bottom.
With flash, the left sleeve is folded to show the lace part: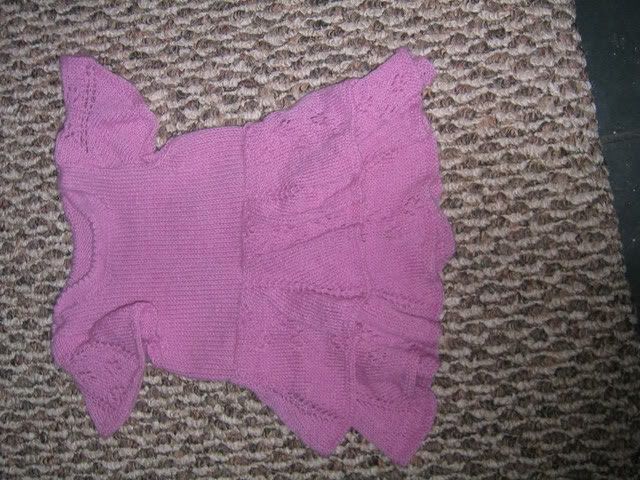 Without flash: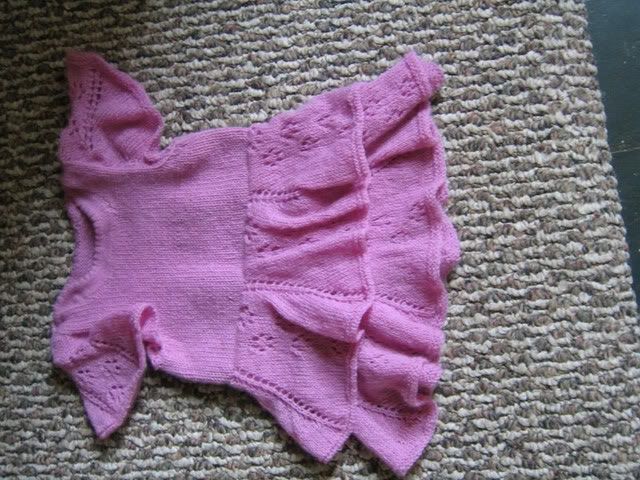 Hehe, now I just need a girl baby (there's no way I'm giving this one away - it was a lot more annoying to make than I was expecting!)