I know that there are some questions associated with Socktoberfest, but I've only really made a few pairs of socks and all really recently. So, I'm going to post my quest for the best way to make socks.
My first pair of socks were the Bigfoot socks (pattern in the sidebar) for my husband, but since they're just house socks I don't really consider them quite the same. I used double points and did one sock at a time. They were top-down with a flap-style heel.
First Socks.
My next pair, in the same manner and for socks not quite as thick but still thick enough that they skirted some of the fiddliness of "real" socks, was Thuja (from Knitty) for my mother. Same as before, I used double points and did them one at a time, also top-down and flap-style heel.
Mama's Socks.
I made some yoga socks (link to pattern in sidebar) and did these also one at a time. This felt a little more like real socks, with sock yarn on small needles but since they had neither toe nor heel it still wasn't the same.
My Yoga Socks.
Then I made some socks on US#1's, using some knitpicks sock yarn and the two socks on two circulars. These were toe-up with a short-row heel with
Elann's Pattern
(I used Japanese short rows because I like them a lot). It felt like it took forever. My crappy and short circulars didn't help any, I'm sure, but it felt like I was forcing myself to knit on this project....
My Socks.
I bought the set of sock dpn's at A.C. Moore. And I pulled out my Trekking that I splurged on (14$ for anything less than 100 grams of yarn is definitely splurging for me!) And I set out to try nifty double-knit style of knitting socks that was in the Knitty article, using the same toe-up pattern from elann.
I went for about 3/4 of a row (and I didn't screw it up!). It was neat, but even slower than 2 circulars. I couldn't do it mindlessly, and for all the stockinette that a pair of socks requires... well I needed to be able to do it without thinking too hard or doing finger gymnastics. I separated out the socks and observed to myself that I have 9 US#1 dpn's. Enough for two socks and one needle to work them. I work off one needle on one sock, then switch to the other sock.
It is wonderful. I have definitely found my sock style.
I feel like I am really celebrating Socktoberfest while I'm making these.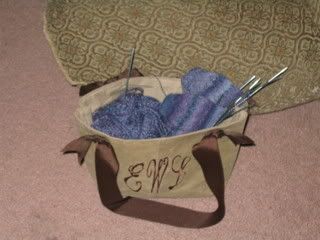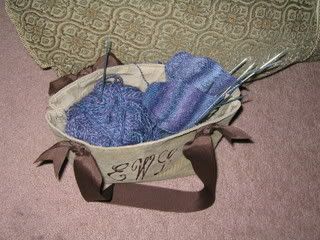 P.S.- Those aren't my initials. My nice SIL made this for me, but since she wasn't able to come to my wedding and it has never come up in conversation...well, she thinks I took on my husband's last name. I like the bag way too much to care about the typo.