I made some socks for me this time. And not just
yoga socks
/ankle warmers either.
I bought some sock yarn from
KnitPicks
and used this toe-up
sock pattern
from
Elann
.
I will say that their solid colored sock yarn is a bit on the thin side. I ended up using a smaller needle and tighter gauge to get the coverage I wanted. These knit up for me on size US 1 needles and gave me 9 st/inch. I got to see a friend's sock yarn that she had purchased from them in one of their variegated handpainted colorways and it seemed more in keeping with the sock yarn to which I was accustomed. It looked like it would knit up well on US 3 needles.
So without further ado, the socks: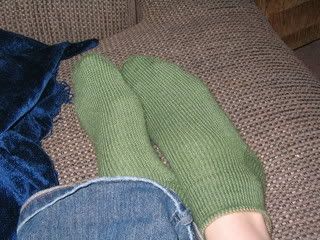 It's hard to see in this pic, but I finished them by turning the hem in a brown yarn.
Yummy Japanese short row heels.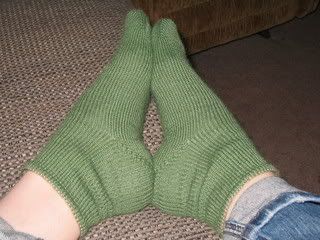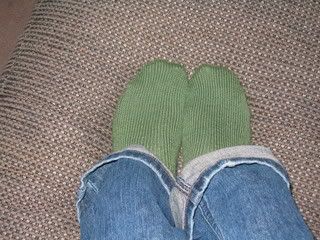 Peek!
This is a great, no-frills toe-up pattern. My gauge was actually 9 st/inch instead of the recommended 7 st/inch, and I really like the fit so I'm thinking this pattern might be a little bit generously sized if you have small feet or like a tight fit. These are definitely tight though, so be warned if you decide to get creative with the gauge or stitch number.
I do not recommend turning a hem for socks. Ever. It took so long to finish, even though I used a crochet hook and chain stitched it instead of using backstitch. It also makes the edge kind of flip out a little. Next time I'm just going to suck it up and do ribbing. And I'm going to buy 2 balls of yarn so I can make the socks as long as I want and not worry that I might run out of yarn if I do ribbing.
P.S. - I sure as heck used exactly that whole ball of green though. I had to tie it to some other thread to have enough to weave in the ends. Hah.