I only have one UFO right now. I think I have maybe 12 rows left. It really wouldn't take me long to finish it, and I really want to finish it before starting anything new, and I really don't have any motivation to work on it at all.
I've been sewing. But I don't have anything to show you, because I haven't finished any of the things I've been sewing either.
I started this
fish
years ago. When I picked it up a couple of weeks ago I had finished the head, and everything else was cut out and ready to go but completely unworked. I found a motivation I never had before and I became a handsewing freak these past couple of weeks. Because, you see, that was what put me off it in the first place. Handsewing. All those utilitarian seams. I was supposed to baste the whole thing first too, but that didn't last long so only a couple of pieces got basted. I had fully planned for it to be a machine sewing project but my machine found the foam to be just too much. So here I am now, about 10 inches from completion on the last, most annoying, 3 layers of foam (and 4 in some places), seam. Okay, so I'm going to have to seam it twice to really be comfortable with it holding but that still only makes a couple feet of stitching left.
This
chair
is the sewing project that has completely seized my attention and my motivation. Apparently it's a discontinued pattern since I could only find pictures through eBay. I found a yummy upholstery fabric remnant that was just barely big enough to do everything but the bottom of the chair. I felt like I was playing klotsky to get all the pattern pieces out of my fabric, but I did just barely have enough. It is swank, not all country and silly like the photo. I've almost finished the pillow forms that go in the chair. This means I am very close to actually getting to use my swank fabric and make the cover. So. Close. If my child would ever take a decent nap I might actually get to work on it! If only!
Anyhow, since I know you're probably really bored with me by now, here's an even more boring picture of my computer I took a while back.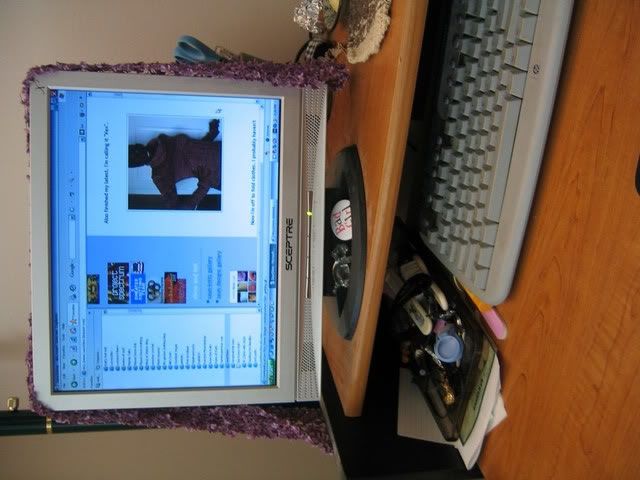 (Yeah, that's SaunShine I'm checking out on the screen. She's not boring! You should check out her site in the sidebar).
And the closeup: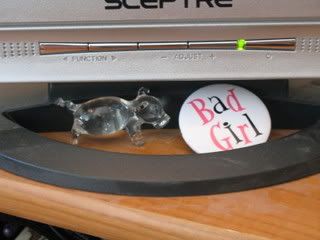 No, I don't collect pigs. This one just travelled a long way, accidentally, with several different people, to reach me. He's classy and he fits under my monitor, so there you go.