I spun up that lovely dark roving and got this: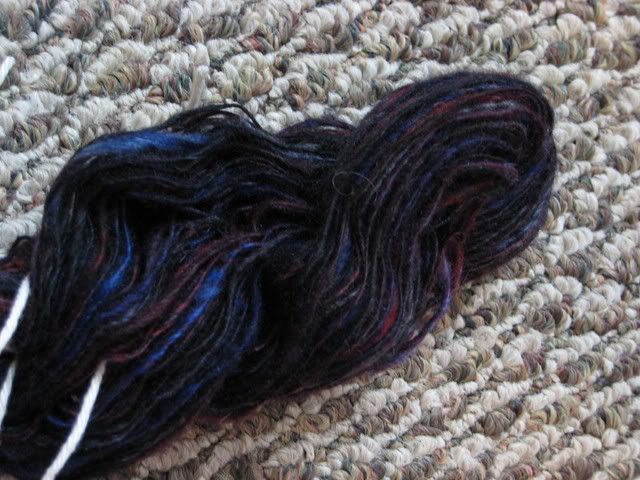 And I couldn't leave it alone, so I wound it into a center-pull ball and knitted another dicebag with it. My tension(drape) and gauge are very different from the first and the shape and size of the bag reflect this discrepancy.
Front: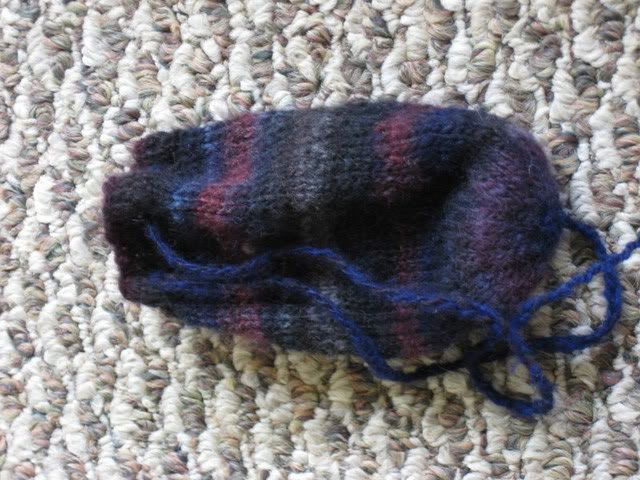 Back: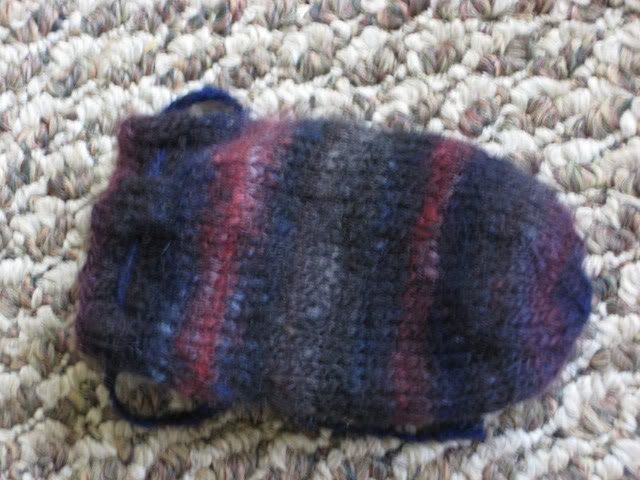 We visited el husbando's folks over the 4th of July. I gave his dad the hat I made for him and I gave his mom some bright green and yellow yarn. It was neat and bulky, but I couldn't quite figure out what to make with it. We managed to completely miss the 4 hours the yarn shop was open on the 4th, and they're always closed on Thursdays so that kind of sucked. They have a large variety of roving and spinnable fibers so I feel like I miss out if I don't go, but I really do have a ton of roving that I could be spinning...
On the way back to Raleigh we stopped in at Asheville to get ice cream (and let me go to a different yarn store, hehee) at Grove Arcade with hubby's aunt & uncle. The last time we were in Asheville I discovered the Home Crafts store for the first time, and bought some lush merino/silk blend from Mackey's Acres, and also some delightful black alpaca from Battman. I love the alpaca so much, but I've never had anything spin so happily as that merino/silk blend. So of course they didn't have any available this time. She kindly made a request of Mackey's Acres, and our Aunt offered to pick it up for me and bring it to Raleigh on her trip in a few weeks...ummm, I'm not actually sure when her trip is but she should be visiting us before we're back out that way.
So now I'm standing in a yarn store with money hypothetically intended for roving burning a hole in my pocket. Burning, burning... I wander through and pet the yarns and admire the expensive silks and the amazing alpaca yarns (almost bought one of the alpaca too, if it hadn't been bulky weight I probably would have). Then I came across the bamboo. I want to try spinning this stuff sometime, and soysilk too, but it's new and really popular right now and I'm kind of hoping the price will come down a little bit. There were a couple of bamboo yarns there and I got to touch bamboo yarn for the first time. It was almost as decadent as touching silk and had a sheen to match, with the friendly softness of cotton, and so smoothly and finely spun. And it was much less expensive than the silk. I had to have it.
I found a pattern in Knitting Lingerie Style that had a chance, and I got gauge right off the bat. Unfortunately I did run out of yarn (I bought all 2 balls in that colorway at the store). I hunted down the yarn locally, they didn't have that colorway but I found a coordinating solid. I barely had enough of the first to knit a stripe into each strap so it wouldn't look like I had just thrown it together. I had to dismantle the button band from another piece to get enough yarn. All of the pieces are knit now and I have to finish sewing it together and...
knitting the trim... I'm not sure if I will have enough of the contrast color I bought.
I'm pretty sure this yarn has officially driven me insane. I've been knitting and working on it pretty constantly to the point that my husband accused me of ignoring him all weekend. I'm scared I'm going to run out of yarn, and I'm terrified that it won't fit right when I finish it. Why do these factors make me want to work on it as if compelled by dark forces??
I don't want to show it until I'm done, but you can see some of the stitch pattern in this teaser: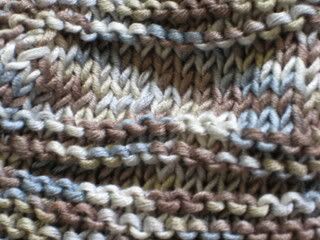 I also got a lot done on Sahara during the trip. I'll have to take pics of my progress on that later.