I still can't get enough of this pattern or this yarn. Yummy.
How do you like those NCSU colors?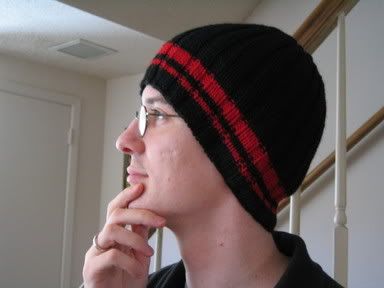 Okay, I have to confess - this hat wasn't for my hubby. I just didn't want the intended recipient to catch on before he received it. He had wanted one of these hats for some time. Wanna see him in it (in Germany, hehe)? I really hope he doesn't mind me sharing his blog:
Apotropos.BlogSpot.Com
(Here's a direct link to the pic. I know, I know, I'm really naughty!
Just the Hat
).
Look at the entry for 3/18/06. If it tries to redirect you to a philogia site, you need to try to get it back to apotropos. I don't know what all kind of web tricks he has going on in that blog, but I had to use pop-up blocker to stay on the main site.
Want the pattern? Look for "That Chocolate's Gone Straight To Your Ribs Hat" in the Links sidebar.
Yarn is Peru DK Luxury from A.C.Moore. Except for the red.
Whee, done for now!
Lystessa