So I wanted to try making an acorn hat after I made the leaf hat. I used the same decrease shaping, but instead of making a leaf brim and picking up stitches I just worked in moss stitch for the first couple of inches.
The only real impediment was finding a yarn that had the right colors and wouldn't break the bank. I ended up with an acrylic (Caron Wintuk) that was thicker than it looked (and felt like cotton, oddly enough). I did not anticipate the thickness, mostly because I was too stupid to look at the label when I bought it.
Even though I took the number of cast-on stitches way down it was still kind of big. I used the same size needles too, so it was also more of a "hat" hat than the stretchy toboggan-ish hat I was aiming at.
I made it for a friend's baby boy. She loved it. Her husband loved it. The boy tolerated it. I guess I did alright.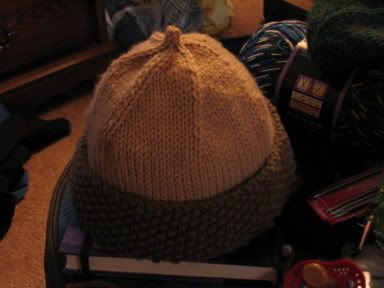 And my boy models it: