Dear Knitters Who Have Been Anxiously Waiting,
I have finally finished the baby sweater for my cousin. I think I'm even surprised at how well it turned out.
Here, see for yourselves!
Front:
Front Detail: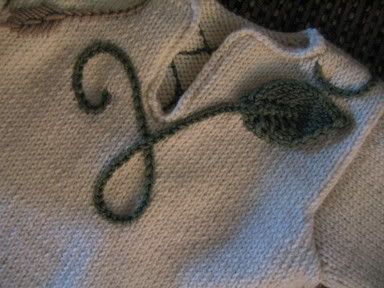 Back: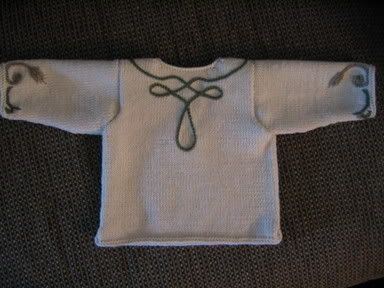 Back Detail: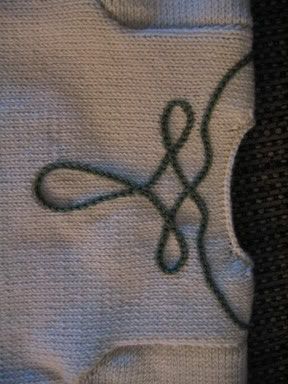 Top View (To show how the embroidery crosses the seam):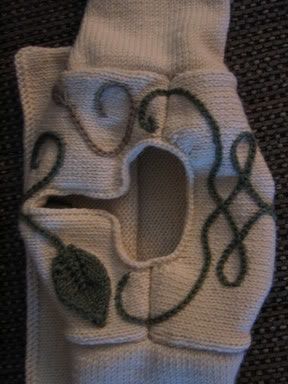 Whew! I felt so nervous with every stab of that yarn needle! It didn't help that, since it was in my favorite yarn, and I did a good job, that the knitting part was absolutely wonderful. Any mistake I made would be twice the mistake - screw up the embroidery and the knitting at the same time! It's not like I was embroidering it to improve it. I really think I would have liked it as much had I left it plain.
But... lucky me, (or maybe OCD, take it out and redo it if the curve isn't perfect, drive myself insane me) I did a pretty good job and the sweater has a leaf to coordinate perfectly with the hat.
Yay!!!!!!!! Don't expect any more embroidery out of me for a while!
P.S. - Don't waste your time doing chain stitch with a needle. It's tons faster (and easier to pull out and fix) if you just use a crochet hook. Plus you don't have to cut your thread until the end.
Enjoy your 4th of July Everybody!
Lystessa