I'm still alive, I'm just lazy about posting I guess. I did a spinning swap on
Craftster
.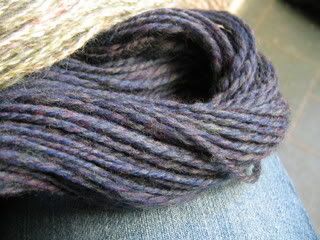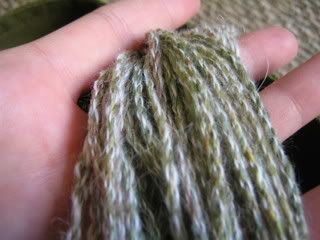 Obviously I had to do a lot of spinning for the spinning swap, plus I did a little sewing project. This bag later received brown velvet handles but I sent it without taking any more pics.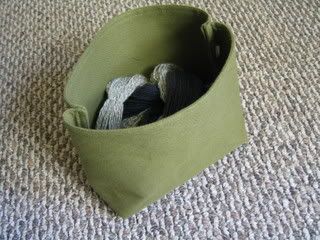 You can check out better pics of everyone's stuff in the swap gallery
here
. My partner was FroggyFibers and of course I'm Lystessa.
I've been working on a very tedious newborn dress out of the cashmere I recycled from a thrift store sweater... I want to show that one, but I want to wait until it's completely finished. Let's see what else... I've been working on some socks for a trade in the local spinning guild.
Here's the exciting part, the heel turn. I've knitted more but haven't bothered to take any more pics yet.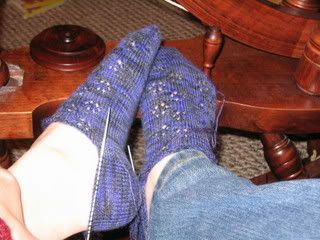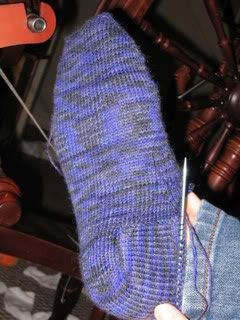 And I made a batch of extremely ugly soap somewhere in there.
And over December and parts of January we cleaned some, moved some, traveled, cleaned some more, moved some more, finished cleaning at the old apartment, traveled some more, came back home and tried to put stuff away. Discovered that the dryer was inadequate, researched and bought a dryer. (We still haven't hauled off the old one, but we will. At least we covered it with a tarp. So we look like rednecks with this tarped thing on our front stoop, but not complete hicks with dead appliances on our lawn).
Yeah, I think that's about it. I've been neglecting my hobbies and *gasp* cleaning! Weird, I know. I'm afraid to tell my husband that the reason the floor got mopped, and stuff is mostly staying put away or getting put away, and the laundry is getting done... is because I've been limiting my hobby time and I have to do something to keep from being bored. What if he got smart and threw my crafts out? He might never have to clean again... or maybe even cook either! He does most of the supper cooking and that's pretty much all the cooking that happens in our place.