Dear Knitters Who Love to Knit for Babies,
I have a little something to show you. I have been agonizing over how to do this embroidery, and it was so scary to me that I had to practice on a pair of soaker pants first. (These were some pants I attempted to dye for Sebastian much earlier. I still make him wear them and they are slightly less hideous when they're on him than when they're just lying there... but they're ugly enough I don't feel bad if I accidentally make them uglier).
Here is the sleeve detail on the sweater I'm making (for the same cousin as the little hat). The neckline of the sweater will also be embellished and will have leaves to match the hat.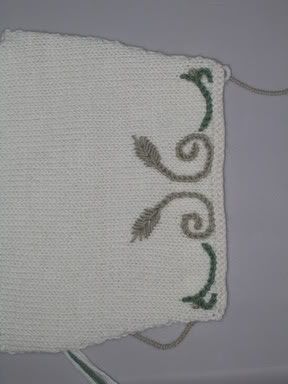 Without flash, I like this one better: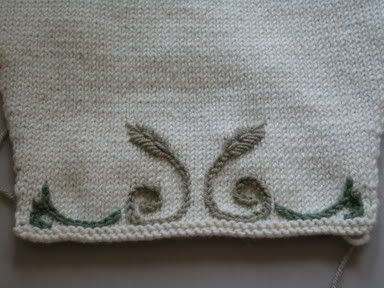 The original pattern for baby's kaftan (from Debbie Bliss'
The Baby Knits Book
) called for flowers but the parents have elected to be surprised... so I can't put flowers on it. Or anything too boyish either. Please tell me that it is stunningly obvious what the central motifs are supposed to be!
Anyways, I have finished the central motif on the other cuff but not the vine yet. It could be a while before I have any new content to show you.
Until then!
Lystessa